In this 21st century, we are facing many health problems due to pollution, fast food, environmental degradation, etc. If we talk about our food habits, this fast-paced life has made it worse. We somehow try to get some healthy food at home but what's the point if the food we make at home is also not healthy to eat. We use utensils made of aluminum which is a slow poison for us. Iron is a healthy alternative but it affects the taste of the food. So, what could be the most appropriate solution for this? Yes, it's the non-stick cookware. This non-stick cookware uses less oil which is a healthy way of cooking.
Let's see the advantages of using non-stick cookware set:
Less oil is used
Fast cooking
Easy to clean
Non-stick
Lightweight
Different varieties of material
Other than this, a non-stick cookware set comes with different types of coatings, layers of coating, whether the cookware set is PFOA free or not, and many other important things. Keeping all these parameters in mind, we have selected some of the best nonstick cookware sets from the best cookware brands in India. All the products have high ratings on Amazon by the customers, these are from best cookware brands so you don't have to worry about the warranty issues at all. Let's start:
Best Non-stick cookware set in India
Best Non-Stick Cookware set in India 2020: Review
Hawkins is a well-known company in India and also one of the most trusted ones because of its quality products. The 'Futura' series of Hawkins has the best quality and innovative products, one of those is this nonstick cookware set.
This cooking set from Hawkins has 5 different nonstick cookware:
1 Frying Pan (22cm, 3.25mm thick)
1 Frying Pan (26cm, 3.25mm thick)
1 Non-Stick Deep-Fry Pan (2 Litres, 3.25mm thick)
1 Saucepan (3 Litres, 3.25mm thick)
1 Non-Stick Curry Pan (3.25 Litres, 3.5mm thick)
2 Glass Lid.
Warranty– 2 years warranty on manufacturing defects.
It is PFOA-free which means you will not fall prey to any health hazards. To know more about PFOA, refer to our Buying Guide.
The material used here is 'anodized' aluminum which is a coated aluminum to reduce the risks of health damage. Aluminum is lightweight and spreads heat evenly. It is PFOA free, i.e. it does not react with food like normal aluminum and cooks healthy food.
Pros:
Anodized aluminum
Lightweight
Dishwasher safe
High Quality nonstick coating
PFOA free
Cons:
Not compatible with induction
2. AmazonBasics Non-Stick Cookware Set
AmazonBasics is a sub-brand of Amazon which offers high-quality products at low prices. This AmazonBasics 15 piece nonstick cookware set is perfect for a small family of 4-5 people. It is a nice combination of all essential kitchen utensils like pans, spoons, casserole, etc.
It is made up of 'Anodized' aluminum with non-stick coating. All the utensils are BPA free i.e., the free from BPA chemical, which is harmful to human health. The cookware set is compatible with gas stoves, electric and glass stovetops but not with inductions. You can also buy an 8 piece set if there are any budget issues, but we recommend the 15 piece cookware set. The whole set consists of:
1 frypan(8-inch)
1 frypan(10-inch)
1 saucepan(1.4 liters)
1 saucepan(1.89 liters)
1 casserole pan(2.8 liters)
1 casserole pan(4.7 liters)
5-piece utensil set with the pasta server, soup ladle, slotted turner, serving spoon and slotted serving spoon.
4-piece lids
Warranty– 1-year warranty for manufacturing defects, customer care number- 18004190416
Pros
Anodized Aluminium
Lightweight
BPA-free
Stay-cool Handels
Cons
Not compatible with induction
Not dishwasher safe.
Prestige is one of the prestigious brands in India and again, the trusted one. Its range of kitchen essentials and high-quality products has made it a well-established brand in India. This product is Amazon's choice recommendation with great reviews.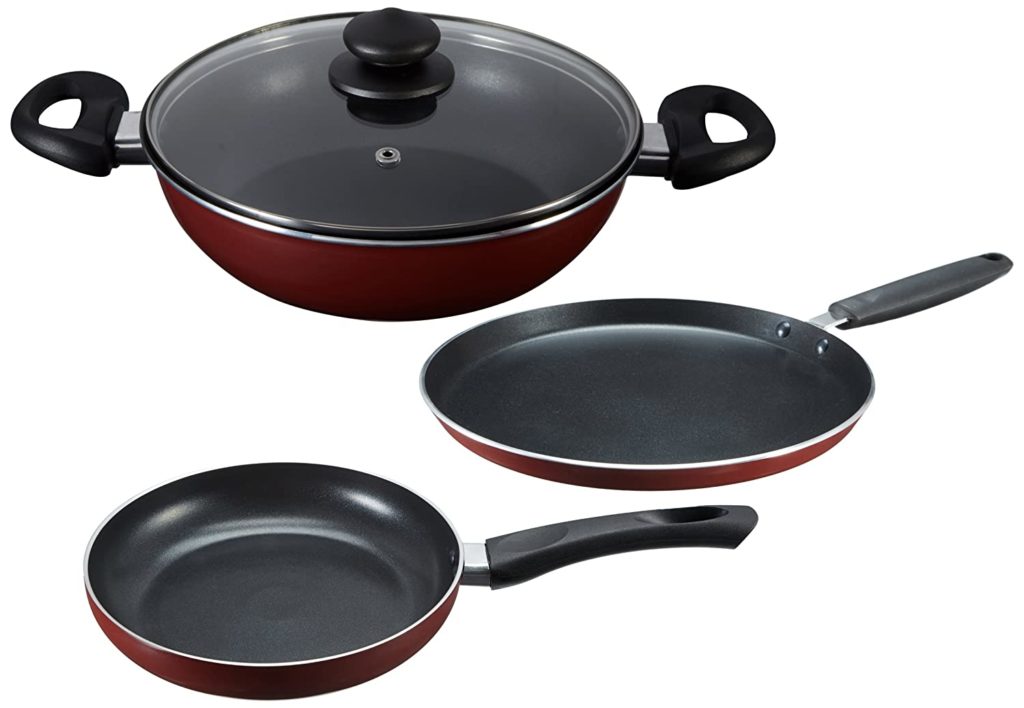 The nonstick cookware set consists of:
1 Omni Tawa 280 mm
1 Fry Pan 240 mm
1 Kadai with Glass Lid 240 mm
It is a 5 layer GREBLON C3+ NON-STICK COATING cookware set with granite finish for healthy cooking, the outer side is made up of aluminum. You can use it on inductions also. It is dishwasher safe and also safe to use with metal spoons. You can also use it on a gas stove or induction. This Nonstick coating with 5 layers allows you to have a safe and healthy cooking experience.
Warranty– 1 year
Pros
5 layer Non-stick coating
Metal spoon friendly
Heat resistant handles
Induction safe
Dishwasher safe
Cons
This nonstick cookware set by a pigeon is the best seller on Amazon. It is a budget-friendly and high-quality product by Pigeon. This set is suitable for a small family or for bachelors.
The set includes:
1 Kadai With Glass Lid (24cm)
1 Fry Pan (24cm)
1 Flat Tawa (25cm)
It comes with Advanced 5 layer non-stick coating which makes it durable. Due to thick coating, it is compatible with metal spoons but wooden or nylon spatula is recommended. It is PFOA-free.
Warranty– 1 year, Contact: 1800 425 66666
Pros
Spiral bottom for even heating
Transfers heat evenly
Metal spoon friendly
5 layer coating
PFOA free
Cons  
Not compatible with Induction
Only Set of 3 cookware
Wonderchef is a premium brand, promoted by the celebrity chef Mr. Sanjeev Kapoor. Its products are elegantly designed and look very pretty and premium. These products are ideal to gift your loved ones. This nonstick cookware set by Wonderchef contains:
1-Piece Casserole (1.25 Litres)
1-Piece Casserole (2.25 Litres)
1-Piece Casserole (4 Litres)
3-Pieces Lid
It is made up of high-quality aluminum (non-anodized but with protective layers)and free from any chemicals. It looks very elegant as it features granite finish which can be used on gas stoves, ceramic plate, hob, hot plate, and induction plate as well. It is dishwasher safe and the handles are safe too as they are molded from the main body.
Warranty–  2 years
Pros
Premium Granite finish
No chemicals
Durable
Dishwasher safe
Induction safe
Cons
Conclusion
All of the nonstick cookware sets are good and it can confuse you. If you want to buy a small set then the Prestige Omega Deluxe Granite Non-stick cookware Set is best in terms of features, durability, budget, and safe cooking. But if you have a big family then the AmazonBasics Non-Stick Cookware Set is the best in that category, although it is still not induction safe it is budget-friendly and gives you many other options of combos. If you have any queries or suggestions for us or about the products then please ask to add them in the comments. Come back again for other recommendations, we are trying hard to give you only the best in the market. Thank You